FAQ
Can we order sibling pictures together?
Yes! Click under the Login-form "enter another password". You can use maximal 5 passwords at the same time. So all photos of the chosen passwords will be visible. So you can choose together and save shipping costs.
Wer can I see my order status - like for example money transfer, production or shipping?
The easiest way is to use the link in your confirmation order, called "order details". Another way is to create an account with your emailaddress and password "Customer-LOGIN". So your order details will show up in your account.
How long is the delivery time?
It depends on your payment method. By using PayPal or direct debit your order progress will start directly. If you pay via bank transfer, it takes 3-4 days more. The delivery time depends on your chosen products also. How much time each product needs is visible in your product information.
Will the watermark disappear?
Of course! The watermark is only to protect the pictures from illegal downloads.
How is the quality of the prints and posters, etc.?
I work with well selected labs only. These labs use top-quality materials of wellknown suppliers. No compromises for quality. If there would be defects anyway, I will take care of it for sure.
Can I optimize/change the picture details?
Yes. Within the cart you have the possibility to crop your pictures. If you crop a part of the photo, this detail will become bigger. The star-symbols will show you, if the quality of the zoom part is still good enough for the print you are wishing.
I don't use online shopping very often. How can I order my photos?
Choose the album you want and click on "order photo". Than choose the photos you like. Change the number of prints, you wish and at last use the button "add to cart". When you got all the photos you wanted, click on the "cart" in the right top and follow the instructions.
Availability

Your photos are available for one month. To safe storage space.
Watermarks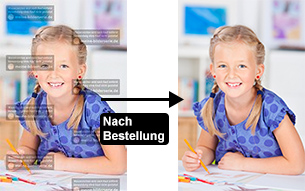 The wartermarks are a protection only. Your ordered photos won't show any watermarks - no matter if you choose downloads or prints.
Delivery time

After receiving your payment the production of your chosen products will start directly. Shipping needs usually around 2-3 days.
Quality

We only use high quality labs for our prints. We use high quality and lang-lasting materials. Especially our silk-paper offers a great quality for portraits.